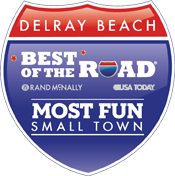 On July 17, 2012, Delray Beach was named the Most Fun Small Town in America according to Rand McNally and USA Today's Second Annual Best of the Road Competition. Five traveling teams of two would be responsible for uncovering the best America had to offer in the categories of Best Food, Most Patriotic, Most Beautiful, Friendliest and Most Fun. [ Read the original article… ]
As Delray Beach's premier realty group, we strive to meet the needs of each and every buyer or seller through outstanding customer service and attention to detail. We work with the following resources to get you the most up to date information.
PBC Edu: The PBCedu.org website is part of an initiative spearheaded by the Business Development Board in partnership with the School District of Palm Beach County.
Spady Cultural Heritage Museum: Home of Solomon D. Spady, the most prominent African American educator and community leader in Delray Beach from 1922 to 1957.
Atlantic Ave Magazine: We provide readers with an upscale publication in which they can explore our vibrant and robust area.
The Delray Newspaper: Delray Beach's community newspaper is dedicated to covering the happenings and have-you-heards of Delray Beach.
Milagro Center: An Arts and Education Program that nurtures the seeds of creativity, builds indestructible self worth and inspires youth to reach their full potential.
Delray Beach Chamber of Commerce: The Chamber continues to support our business community, strengthen our members, and promote the free enterprise system in Delray Beach.
Visit Delray Beach: Delray Beach is a first-class resort destination and a diverse, vibrant, community situated on the Atlantic Ocean between Boca Raton and West Palm Beach.
School District of PBC: We are the only urban school district in Florida that has earned an "A" rating from the Florida Department of Education for eight consecutive years.
Delray Center for the Arts: Our mission is to be the community's cultural center, enriching the lives of all people by presenting diverse experiences in visual and performing arts, education, and entertainment.
RE/MAX Advantage Plus: The nation's leading provider of home ownership services in the Boca Raton, Delray Beach, Boynton Beach, Wellington, Ft Lauderdale and West Palm Beach Area real estate for sale.
BCoSF Media:  Branding & Web Design Company that offers professional service for all your digital marketing needs.